Well, I've finally bribed my Hunny to upload pics from the camera phone to the computer, and so I can share a few of the things I've been working on! Remember when I said Meg came in town? While she was here, she helped me to get a garden started, and we planted tomatoes, chili peppers, bell peppers, and herbs. I'm so excited to have my first stint at gardening, and so far I've stayed motivated enough to actually weed and everything!! Anyway, here is a picture of my herbs (I have rosemary, cilantro, thyme, and basil).

I can't share pics of the tomatoes (not much to see anyway, just yet) because the lighting was never good enough. I hope that does not bode ill for my cool plants!
Next, I am knitting again! I am working on Helen's baby sweater (meet Mama here), and it feels so good to be knitting again-I'd gotten into a bit of a funk from inactivity I think! Anyway, I bought a lovely sagey/mossy green yarn (Rowan 4ply cotton) as seen here: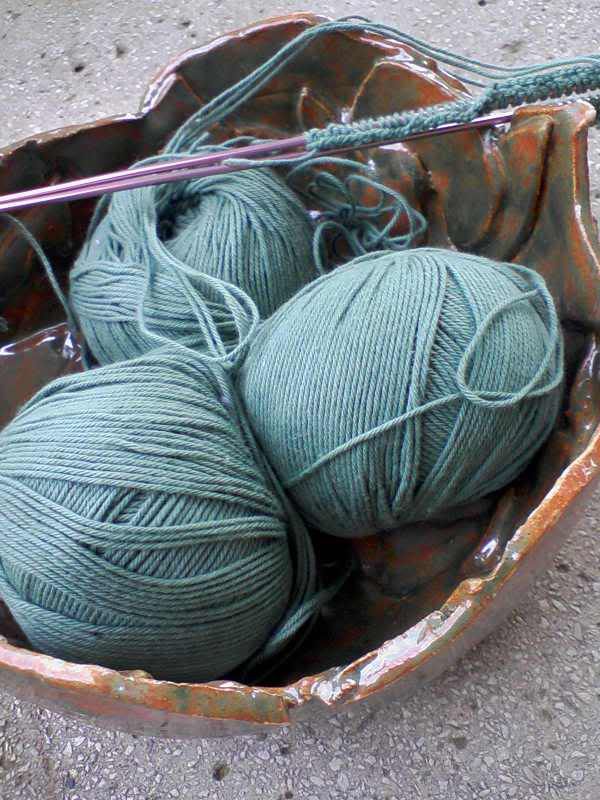 (Brownie, look away if you want the design of the sweater to be a surprise!) The pattern comes from a vintage Coats and Clark pattern for Red Heart Yarns, and it looks just sunny!

Last, but not least, I met Melissa on Ravelry, but she lives right here, and was lovely enough to loan me the use of her kiln to fire some projects that were WAAAY overdue (um, Christmas 2003!). Actually, she did the firing, too, but I did the slabwork and glazing myself. These leaf bowls were a project that my Montessori directress and I worked on for our students; this one was a prototype, and meant to be a gift for Meg. Basically, we gathered leaves with the kids (and found their names so that we could incorporate science into art!) and then pressed them into thinly rolled out clay. The other leaves were extras, so I made them into ornaments, hoping I could make a windchime out of them. However, I think I like them as is, so don't know what to do with them besides add them to my so-called "nature shelf."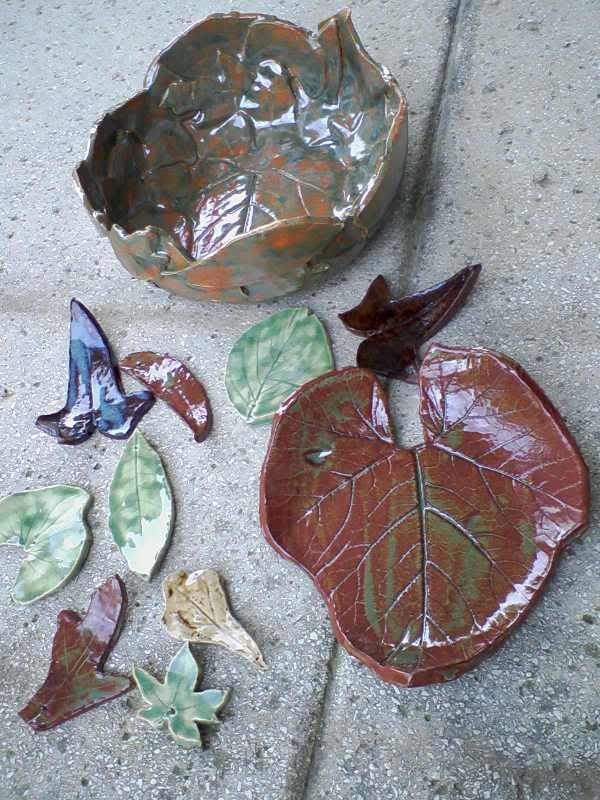 So, there are a few of the things I've been doing when I haven't been trolling blogland and playing with the kiddos!! Speaking of, we finally went to the Pedi, and both boys are in good health, and just lil' monsters! Bear is a whopping 32 pounds and 32 inches, and Bunkin is just under 19 pounds and 26 inches! They both got each other today--Bunkin grabbed Bear's face and scratched him, and Bear bit back--on Bunkin's face! Yikes! Hunny tells me this is only a glimpse of what is to come. I also have to say how blessed I am by Hunny--not only has me been responsible for the house staying clean, I came home to a stunning bouquet of flowers and a mini-cake just because he loves me! What more can a girl ask for?